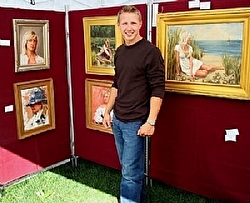 Mr. Stuckey at his first show
After reading Clint's blog for today - answering of 11 questions, I am reminded that we all must create our own markets to a great extent, and he's right - it takes time and there's no magic formula.

There are many levels of collectors and many markets in which to sell your work. When I started out, I did outdoor shows in New England. Before you turn your nose up at that, I just want to say that a friend of mine often comes home with $6K-$10K in her pocket with a $60 show fee. Some of these shows are small - like the one in Keene NH, and others are larger and draw a huge crowd... like the Portland Maine show (300 exhibitors), but that show is probably one of the best selling shows.

These shows are a great way to build a mailing list. I bring a nice looking guest book and ask those who are intersted in receiving mailings and emails from me to sign on. That way, I am not bugging them; They want to hear from me because they like my work. Another friend of mine made $60,000 this summer doing regional outdoor shows. Some artists who do the juried shows in far cities make 6 figures. It can certainly be lucrative, AND if you enjoy meeting people and getting the names and addresses of folks who buy your paintings, it's a wonderful way to go.

On the down side, it takes some physical strength to set up the tent and cart all those paintings to your space. I used to hire a teenage boy (or two) to help me set up and take down. Sometimes, my husband helped out. I bought my EZ up tent at Sam's Club for under $200. Looking professional is a must these days. You can buy stands from some of the companies that advertise in art magazines like American Artist or Art Calendar. When you do the same show for more than one year, you usually get the same spot - and collectors know where to find you. Also, there's prize money to be won! Gallery owners sometimes look through the shows for artists to carry - especially new galleries. I have worked with two as a result of being in a nearby show.

These days I am working more with galleries - why? Because my husband can't always help me set up and as I said, the shows are physically demanding. But if you have a way to do it and you're just thinking about selling your work, it's a great way to get started. It's fun to see which of your works are looked at again and again.... and you might just come home with lots of money in your pocket.

Oh, one more item. You'll need a tax ID number for each state that you sell in, so you'll have to register as a business with that state, but when you have a tax ID number you can buy frames wholesale - right from the distributor. This is just the tip of the ice-berg on outdoor show info. Feel free to send me email to ask specific questions about my experiences with shows.

Lori

Sign up for my free art instruction tutorials on this website!
Topics:
Art Marketing
---
« Preparing to Approach Galleries | Main | More on Outdoor Shows »
---
---
2 Responses to Selling at Outdoor Art Shows
Jennifer Janson
via web85 months ago
Excellent information to share Lori - especially,

"You'll need a tax ID number for each state that you sell in, so you'll have to register as a business with that state, but when you have a tax ID number you can buy frames wholesale - right from the distributor."

Thank you so much,

Jennifer
Kandy Cross
via web73 months ago
Lori,
I have been on the local show circuit for
four years. I agree with your statements
about the possibilities of lucrative income,
however, recent shows in which I have participated in 2008 have been difficult. Not
only are they physically taxing, but iffy weather is often a factor as well. I am often
beside of artists who always say that they have had a great show when I know that they haven't sold anything. I have heard that most
of this year's artists' sales are down this year due to the economy. How do you make the decision as to whether to continue the arts
fest route or look to galleries as another option for selling work? I enjoy reading your comments on Clint's newsletter and hope that you can share some further suggestions.
Thanks again for addressing these issues.
* indicates a required field