Pondering The Artist Life
« Taking Charge of Your Art Business | Main | Law of Supply and Demand for Artists »
It's been awhile since I've updated my blog. While writing for Fine Art Views (for 3 years) once a week, it was easy to keep blog ideas fresh in my mind. Lately, I've been spending more time painting and instructing... which are tasks I adore.
Otter Cove Study, Acrylic on Canvas panel 8x10
I'm in Maine on a painting trip... I do some walking, but it's been raining for the most part. So, I've taken time to paint indoors. I'm trying something new - working only with acrylic while here. I have to share with you that I've always felt some sort of guilt while painting with acrylics or watercolor, because the "in crowd" of the art world often conveys to me that they are inferior to oil. Does that make me an inferior artist? Nope!
Don't we have the right to use whatever materials we choose to write our visual story with? I've often said, in an art crowd or to a gallery owner, "I am mostly known for watercolor... but I paint in oil too". Why do I have to feel so sheepish when I admit that I prefer watermedia? Sometimes it feels like I'm a second class citizen like Clarance, the angel in It's a Wonderful Life - who had not yet earned his wings. Even though he could do everything a wing-toting angel could.
Last year, I put on my "rebel" cap... which I wear a lot these days... at Putney Painter sessions, and Iemphatically stated that I was going to bring my watercolors with me and not oils. No one challenged me, and Richard even said, "Have I ever said you can't paint in watercolor?"Well... no ... BUT I do feel left out in some way. Oil is just part of the current culture of artists that I happen to hang around with.
Last year, when I attended Eric Rhoads' Adirondack Invitational, I was one of 4 watercolorists who painted plein air out of 80 artists who attended. I received many compliments, and came home after the week feeling totally validated as an artist. It was great that there were no gatekeepers to tell me that I am less than a top artist because I choose to work in water-media. Because I worked in my niche, my work at least stood out from the crowd. I talked my friend, Charlie Hunter into going. His work is outstanding, but not typical of any painting school or movement. He has a unique approach to painting with oil - water soluble oils in a drippy, tonal fashion. He was practically a celebrity that week - and he sold most of his paintings there to the other artists... even though it wasn't a selling venue. He too said he felt validated as an artist.
Since I've been writing for Watercolor Magazine since 1996 and American Artist has "repurposed" several of my step by step watercolor/watermedia articles for recent ebooks and special issues, I feel validated as a REAL artist. Over the years, I've noticed that many watercolorists and acrylic artists stay with their medium. I usually email them and ask them if they feel it has hurt their sales - even at galleries, and they say no. Then, lo can behold, I see them start to paint in oil. Where they pressured into changing by their gallery dealers, collectors, or did they choose to paint in oil for their own reasons. I wish I knew, but I'm afraid to ask.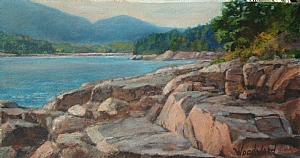 Otter Point, Acadia: 7.5x15 Acrylic on paper
One of my galleries, years ago now, sold an acrylic painting of mine as an oil (mistakenly). I must admit that one could not tell this acrylic on canvas from an oil painting - because I glaze, to desaturate the intensity of color. Since that time, I began painting in oil for galleries, and continued with watercolor for my articles and my patrons. It's interesting to note that many of my collectors prefer my watercolors, but the "gatekeepers" want Oils Only. Less sophisticated collectors (my collectors) don't care about medium, they only care about whether they like the painting and can afford it. I enjoy their trust that even though I paint in watermedia, I'm still a serious artist.
Then there are those artists who flip-flop. They make their name with watercolor. Then when they start working with galleries, they start painting in oil (but the oils never have the same charm as their watercolors), and eventually, after a number of years, they move back to watermedia. I think that these artists ultimately decide that they will follow their passion and not the requests of those who think they can sell oils more easily. Recently, I emailed Mary Whyte to say how much I have enjoyed her books, as well as, her tenacity to stick with the medium that she loves and has mastered. She gets good money for her paintings, and her workshops at Scottsdale Artist School fill quickly. She has no need to work outside of her chosen medium.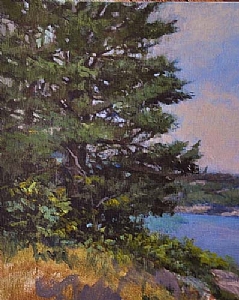 Tree study, Acadia NP: Acrylic on canvas panel. 9x12
Now.. I'm not against oil, I love the look of it, but I don't particularly enjoy the process of painting with it. I can handle it technically; however, I rather like fast drying media. I can make changes every half hour and glaze at a whim. I've worked out my unique approach, and don't need to think very hard anymore while painting with watercolor or acrylic.
Last year, Windsor Newton introduced a new line of acrylics that don't darken when dry. They are: Artists Acrylics, and just recently, they developed a line of clear mediums that don't darken. What's really interesting is that these paints seem more transparent, resulting in a look that's closer to oil than any I've used in the past. Yes, I've experimented with new versions of acrylic that dry more slowly - but as I said earlier, I prefer fast drying.
When I work en plein air, I take my transparent watercolors - I don't need an easel... just a board, a lap, and a rock to sit on. Everything fits in my backpack. Sometimes I take a tiny stool, and my paintings dry immediately, and are light. I work on 300lb paper which does not wrinkle or warp. I'll admit that I'm not inclined to finish paintings in the field, but watercolor is perfect for my color studies. I often do larger paintings in the studio from these studies anyway.
On top of all this, I hear from gallerists that collectors don't want works under glass because of reflections. Personally, I think watercolor lost its popularity when giclee prints came on the scene. The reproductions look so much like an original watercolor, that it's difficult to tell the difference. I've resolved this 'so called' issue by fixing and varnishing my watercolors and framing them just like an oil. Paintings I did more than a decade ago have not faded, and they can even be cleaned with a damp cloth. There is no reflection, and many times, viewers mistake my varnished watercolors for oils. Interesting that they recognize watermedia by how it's framed. The last thing I want for my original watercolors is to frame them with a mat. A mat makes it look just like a print, and in my estimation, lowers the perceived value.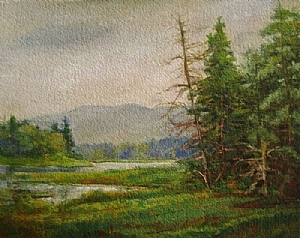 Rainy Day, Bass Harbor Marsh: Watercolor with acrylic on paper, 8x10
What about competitions that require matting and glazing for framing? I don't enter those. I varnish my paintings, no matter what the medium, and if I don't qualify for a show because of framing restrictions, so be it. I do enter online shows and shows that are not media specific - they just want to see great artwork.
Whether you're an oil painter or a watermedia painter, I do have to say that traveling with watercolor paints is an option that causes very little trouble - especially on flights. I pack my supplies, labeling it was watercolor paint, the paper lies flat in the bottom of my suitcase, and since I rinse my brushes out in water, I only need one or two. They're short-handled too - easy to pack.
If you've always wanted to paint outdoors (or indoors) with watercolor, by all means, do it. Don't be swayed by some who will say it's not a real artist's medium. It's not more difficult than oil either - just more akin to drawing. Color mixing is easier, and control is easy when you glaze color over color, going from light to dark. If the weather is too dry, just add more water and do multiple glazes. However, if it's raining, that is a problem... I'll admit to that.
I'll be teaching three watercolor workshops next year... one at Scottsdale Artist School for newbies to watercolor - another at Tucson's Desert museum (intermediate), but anyone with ample drawing skills will do well, and a third for the Monadnock Artists Society - again for those who are newbies. If you want more info, please contact me through this website. I'll be happy to get back to you.
Remind me to write a post soon on how I varnish my watercolors - that's something I've probably typed up 100 times in various forums. It would be convenient if I were to write a blog post that I could just link to.
It's time that we honor our chosen medium - even if it's not the one that sells the most. As artists, all we really need is a small crowd of collectors, and I've managed to do just that with watercolor and acrylic. For you who paint in oil and love it - stay with it. Paint with whatever medium you love most - after all, we're artists, not a factory.
---
---
Comments